Get new podcast episodes emailed to you:
---
Click here for new videos to be texted to you on your phone.
Footsteps to Heaven is brought to you by Good News Ministries of GNM.org.
Life's a journey full of challenges. When we walk with Jesus in the power of the Holy Spirit to the destination that God the Father designed for us, the results are better than we could ask for or imagine.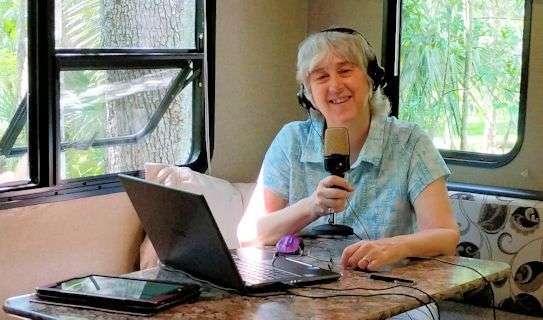 The host of Footsteps to Heaven is Terry Modica, executive director of Good News Ministries of Tampa Bay. This Catholic lay ministry was founded by her and her husband Ralph in 1995. It helps people grow closer to Christ, enter the embrace of the Father, and become evangelizers empowered by the Holy Spirit. Since 1999, Terry has been producing Good News Reflections on the daily readings of Catholic Mass. Her ministry has spread throughout the world.
She credits the Holy Spirit for bringing her into the Catholic faith in 1977. He gave her instant faith in the True Presence of Christ in the Eucharist when a friend explained the miracle to her. This rescued her from the occult. To hear her tell her story about this, listen to this podcast.
Terry, who has been involved in a wide variety of parish and diocesan ministries, has a theology degree and pastoral certifications. A versatile speaker, she gives retreats and conference talks on the Holy Spirit, Difficult Relationships, the Rosary as Mystical Union with Christ In Daily Life, Healing the Wounds that Affect Our Intimacy with Abba, How to Use Virtual Reality in Ministry and other topics.
For more about the host of this podcast show, Footsteps to Heaven, go to terrymodica.net.
For more about Good News Ministries of Tampa Bay, go to gnm.org/about-us.
What are you seeking from God?
In 60 seconds, here's how to find it: